Ricotta is a fine-grained, mild dairy product made from whey. You can easily make it yourself. It's versatile and can handle heat too. Give it a go!
Ricotta, also known as whey protein cheese, has a slightly sweet taste. This cheese is traditionally made from the whey leftover from cheese making. Collect the whey and strain it before using it to make ricotta.
Using Ricotta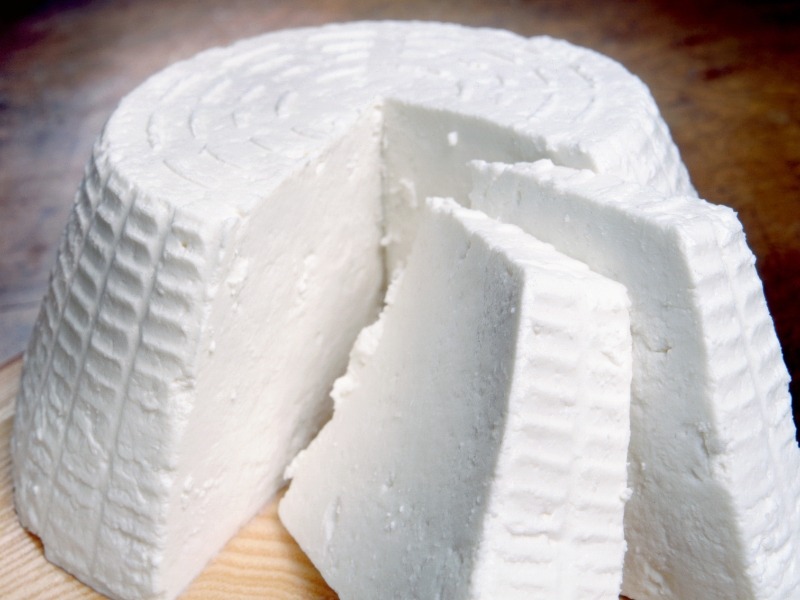 This Italian fresh cheese is perfect for desserts like fruit-based creations or a lighter tiramisu. It also works well as an ingredient or a light topping for cakes, filling for pancakes or crêpes, or even as a spread on bread with honey or jam.
As a savory ingredient, ricotta enhances fillings for pasta, sauces, dips, or quiches. The fresh cheese also makes a tasty topping for pizzas or antipasti.
Difference between Ricotta and Cottage Cheese
Ricotta and cottage cheese have a similar taste but differ in texture. While ricotta is fine-grained, cottage cheese has a coarser texture. However, the significant difference lies in the preparation.
Cottage cheese is made from milk, making it a fresh cheese. Ricotta, on the other hand, is traditionally made only from whey that is reheated. Technically speaking, it's not a fresh cheese. You can also make ricotta using a combination of whey and milk to give it more volume.
By the way, using lemon juice in the preparation makes the fresh cheese slightly sweet like ricotta. If you use white vinegar, you'll get a neutral-tasting fresh cheese.
Storage
If you store the finished ricotta in an airtight container in the fridge, it will last for approximately 4 to 5 days. Making your own ricotta at home allows you to control the ingredients and create a fresh, creamy cheese. Enjoy your homemade ricotta!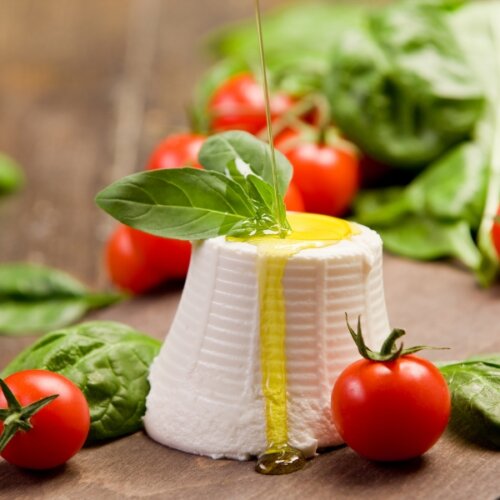 Homemade Ricotta
Ricotta is very easy to make at home. You kill two birds with one stone: Make cream cheese and ricotta from one liter of milk.
Ingredients
or just milk
1200

ml

whole milk

¼

tsp

salt

1

tablespoon

fresh lemon juice
Instructions
1. Make whey from milk
If you don't have whey, make it yourself first. Heat the milk until it starts steaming. Now add 3 tablespoons of lemon juice and mix well with a wooden spoon.

Take the pot off the stove, cover it with a towel and let it stand for 1 hour. During this time, the curds will separate from the whey.

The solid part is now cream cheese, which you can use elsewhere. Scoop it out, add some heavy cream if necessary and let it drain further in a fine-mesh sieve. Wrap it up and keep it in the fridge.

Use the remaining whey for the ricotta.
2. Ricotta from whey
Put the whey, whole milk and salt in a saucepan and heat them up to about 80° C (175° F) over medium heat. It is best to check the temperature with a kitchen thermometer.

Cautiously stir in 1 tablespoon of lemon juice with a wooden spoon until the mixture's temperature reaches 90 °C (190°F). Do not let it boil!

Stir the bottom of the pot well. After around 30 seconds the milk coagulates and flocculates.

In the meantime, line a colander with a cheesecloth or clean tea towel.

Now skim off the milk flakes from the surface with a slotted spoon and put them into the lined sieve.

When all the milk flakes have been skimmed off, leave them sit for a around 10 minutes. Then fill the finished ricotta into ricotta molds and chill well.

After 3 hours in the fridge you can eat or process the ricotta.
Share on Facebook
Share on Twitter
Share by Email