10 Typical Belgian Dishes you did not know about yet
Belgium and food are usually not mentioned in the same sentence. Belgian food is unknown to many people. Despite Belgium is a small country, it has an incredibly rich food culture. Let´s take a deeper look into more unknown specialities of Belgian cuisine.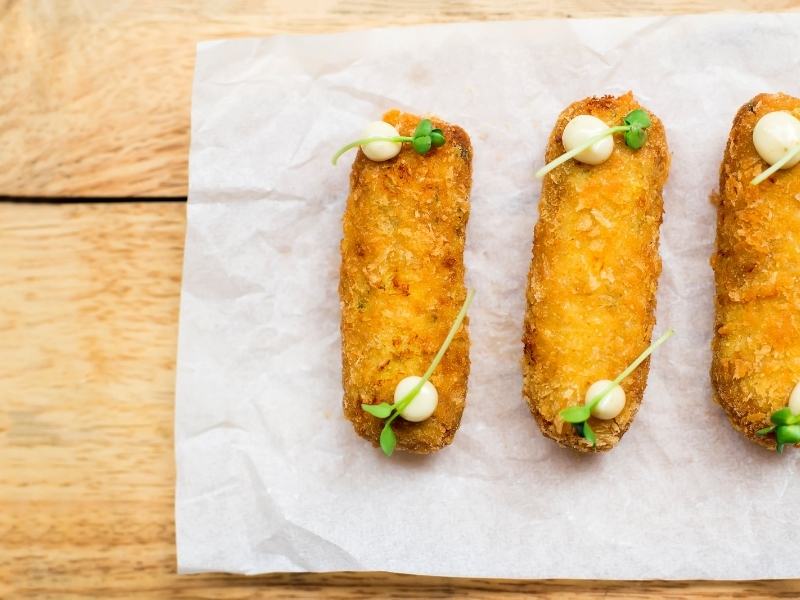 When it comes to Belgian food , most think of chocolate, beer and french (from frenched, not from France!!) fries. When you ask for typical Belgian cuisine, those are the answers that will pop into mind. And you are not wrong, of course. But there is way more of yummy traditional Belgian food.
Belgian food and its recipes
Belgian chocolate is the very best in the world (and believe me, we've tasted a lot of chocolate around the globe over the years). With over 500 different kinds of beer, the country is heaven for those who enjoy the bitter alcoholic drink.
And don't get me started on fries, because we Belgians tend to pick up a little package at least once a week. It's our not-so-secret comfort food. However, we also have far more healthier and filling options!
The traditonal Food in Belgium consists mainly of sea food, meats and a lot of seasonal vegetables. Keep on reading to discover the 10 dishes you have to try when in Belgium.
10 typical, but quite unknown belgian dishes, you have to try!
---
Stoofvlees of stoverij: Flemish beef stew
Dark Flemish Beer Stew "Stoofvlees of stoverij"
See Recipe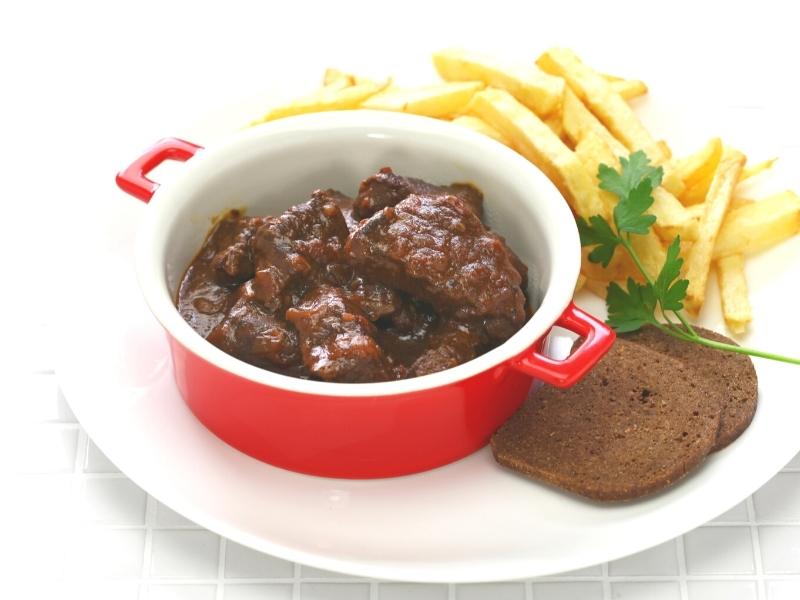 This beef stew, also called Carbonade flamande might be the most iconic traditional Belgian food. The famous TV cook Jeroen Meus even declared the first of March as the national stoofvlees-friet (Flemish stew & fries) day.
Unlike other meat stews, that are often prepared with wine, the Belgians cook their dish with dark beer, whch gives it a rich and special taste. Together with mustard, a cut of bread and herbs like shrub and thyme, it makes a magnificent dark sauce, full of flavour.
The meat is cooked for up to 3 hours, which makes it fantastically delicate. The stew is traditionally served with fries. It also goes along great with fresh bread or croquettes (deep fried pureed potatoes in a bread crump coat).
On the side either fruity apple sauce or a mixed green salad fit perfectly.
---
Chicken Soup Gentse waterzooi
Belgian creamy chicken soup (Gentse waterzooi)
See Recipe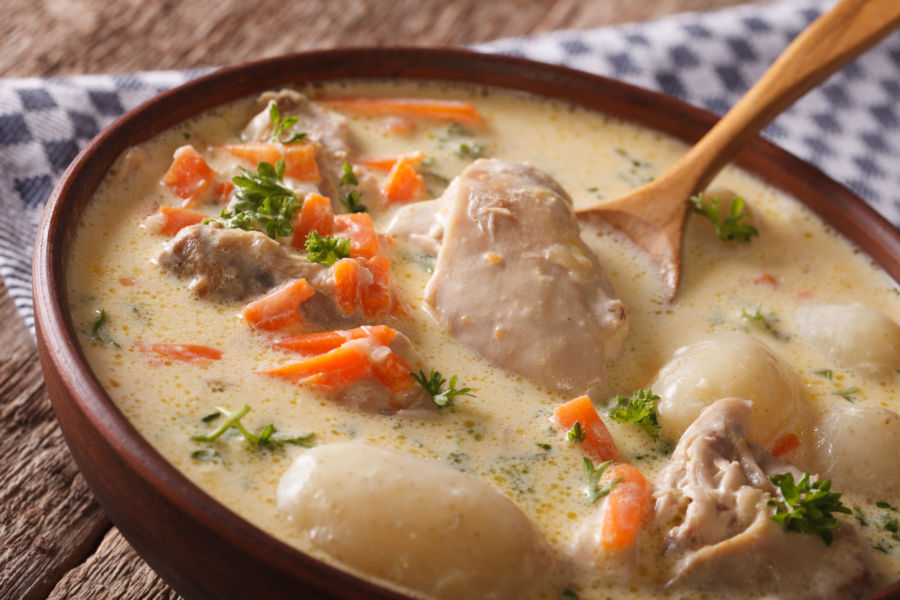 Fish or chicken soup from Ghent. Another famous stew in the Belgian cuisine only comes with a Dutch name: waterzooi. "ater meaning, well… water and zooi comes from an old word for "to boil", mostly fish. In origin, it was a local dish from the city of Ghent, hence the full name.
The stew was originally made with fresh or saltwater fish, but nowadays it's more common to use chicken. All kind of veggies (but definitely carrots and leeks), potatoes and cream complete the dish. The usual way to serve it, is as a soup combined with some bread.
---
Hutsepot: Vegetable soup with meat
(Hutsepot/Hochepot)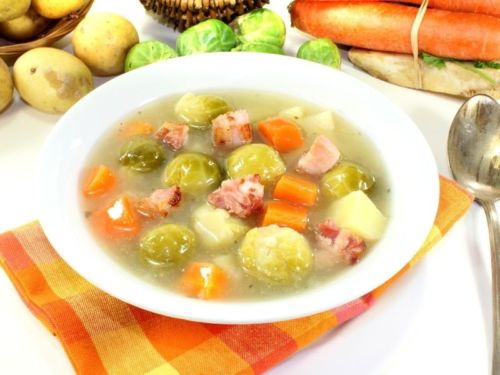 Belgians love stew and soup! So here comes another hearty stew to add to the list of Belgium's national dishes! The Belgian fields are rich of vegetables, you find them also using them in lots of recipes.
Hutsepot is a typical farmer's Winter dish made of different of winter veggies, potatoes as well as meat. As in many kitchens around the world, there is no such thing like "the real traditional recipe". Every house has its own recipe and you can just pick whatever you like.
The range of meat goes from beef marrowbone, ribs to pork sausages or mutton. The basic vegetable mix used in winter in Belgian food are carrots, Brussels sprouts, parsley, celeriac, turnip and parsnip.
---
Shrimp tomato
(Tomaat garnaal/Tomate crevette)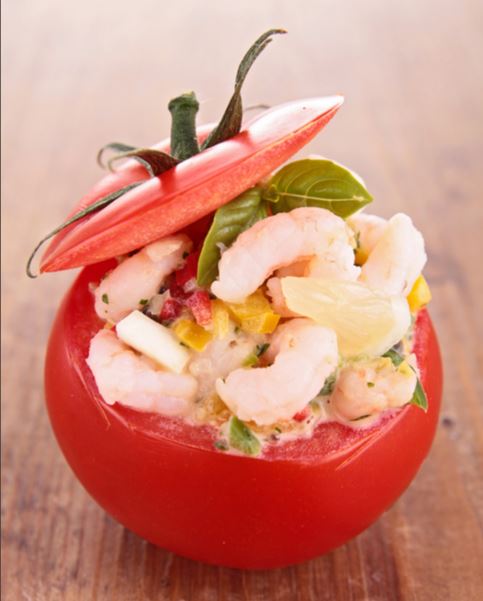 Tomate crevette is a typical Belgian starter but also a main dish. Basically it is a raw, hollowed tomato filled with a mix of shrimps and mayonnaise. It is commonly served with a salad and accompanied either by bread or fries. This dish is eaten cold, which makes it a perfect summer meal.
---
Shrimp croquettes "Garnaalkroketten"
Another favorite of Belgians are shrimp croquettes. They are usually served as an appetizer with lemon wedges and fried parsley and a bit of bread. Though it is not uncommon to eat them as a main dish accompanied by fries (surprise, surprise) either.
---
Belgian Potato mash Stoemp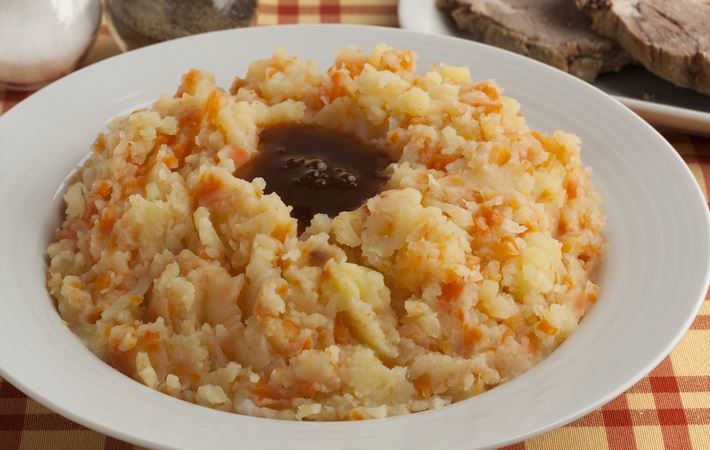 One of those typical Belgian meals we love in winter (or actually, at any season) is what we call 'stoemp'. Basically it is mashed potatoes that were roughly crushed rather than mixed.
Any type of vegetables can then be added to the mixture. When you add carrots you get 'carrot stoemp', when you add spinach you get 'spinach stoemp'. You see where I'm going.
It's often combined with sausage, but really, anything will do. It's one of those simple but perfect-from-grandma kind of dishes in Belgium.
---
Paling in't groen: Eel in the green
(Paling in't groen / Anguille au vert)
Eels are a delicacy in Belgian cuisine, no matter how you eat them: cooked or smoked.
However, eel in the green is one of those dishes you really have to try. The meal has its origin around Antwerp, where the river De Schelde provided the eel. Local fisherman prepared their fish with the herbs found at the banks of the river.
Those were mainly sorrel and chervil, but also parsley and watercress. The fish (which reminds a bit of chicken as it is quite firm) is cut up in chunks of about 5 cm and the herbs give the sauce that distinct green color. It's a must-try of Belgian food.
Honestly. But don't forget to check your teeth for any leftover green bits afterwards.
---
White Asparagus
(Asperges)
In the months of May and June, Belgium tends to go crazy. And it's all about this little vegetable: the white asparagus.
Softer and sweeter than its green brother, the white asparagus is considered a luxurious delicacy in Belgian cuisine. Since it's not that easy to grow, they're rather expensive, but believe me, it's worth it!
During the short season, there is no escaping: you'll find them on every menu. The most traditional way is 'Asparagus Flemish style'.
The vegetable is boiled to perfection and served with cut up hardboiled eggs and a butter sauce. Sounds too simple? Just try it. If you rather have them another way, try them in pasta, soup or quiche.
---
Endive gratin with ham
(Witloof met ham en kaassaus in de oven / Chicon au gratin)
Another comforting winter meal is a gratin made with endive. The bitter taste of the vegetable requires some adjusting, but the ham and white sauce soften the taste and make for a great combination altogether.
It is served plain or with mashed potatoes. As it is a traditional homecooked meal of the Belgian kitchen, you won't find it that often at the restaurant.
---
Meatloaf with cherries
(Gehaktbrood met krieken)
And last but not least, one of my personal favorites of Belgian food: The combination of meat loaf and sour cherries. It's another example of a hearty homecooked meal.
The minced meat is shaped into a large or smaller ball(s) and slowly baked. This results in a crispy crust on the outside and juicy meat on the inside.
The cherries are heated. You can eat them with bread or mashed potatoes. Two words: yum yum.
---
Thanks to Babs from www.travelgearforkids.com for her tips and collaboration.
"Born for traveling" is how Babs likes to describe herself. Together with her wife Kath and their daughter Norah, she enjoys tropical beaches, charming little towns and stunning hilltop views. Whenever they are not off traveling the world, the girls spend their time exploring home country Belgium. As social influencers and part time digital nomads, they are working on making their blog www.travelgearforkids.com big, a page about travel equipment for children.
Click here for a list of great day trips from Brussels.