How about we start with the likely most popular one, the Moka pot or Moka Press. This coffee maker can be found in numerous countries all over the world and is a true work of art. It can easily be used different kinds of stove tops, like a gas stove, electric or even induction stove tops. The moka pot is very lightweight so it can easily be taken without much of a stretch. Thus it can even be found in workplaces or in the gear of espresso admirers everywhere.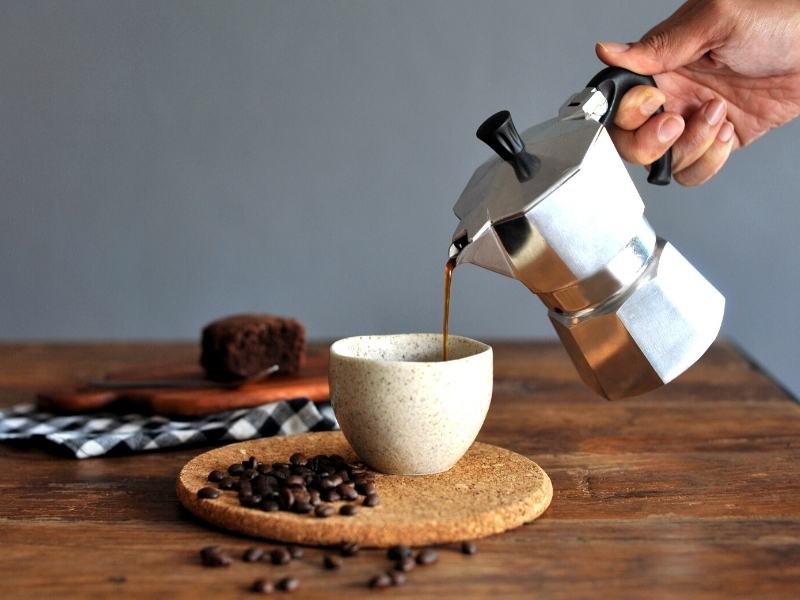 Here is a step to step guide on how to make a perfectly brewed espresso in you own home, using a moka pot.
Cleaning your moka pot
After use, you should clean your espresso maker. Dissamble the moka pot and rinse the coffee basket as well as the the top part, including the middle pipe that supplies the water to the top part. Also clean the bottom side of the top section. There is a rubber ring that needs a clean also.
there is a There is only one important rule, you should follow to ensure a long lasting coffee pleasure: Do never, and I mean, NEVER clean your moka pot with any detergents. Simply use pure water.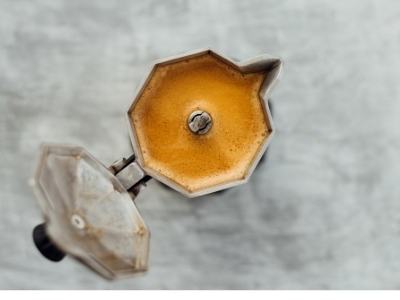 Also read: How long should a single shot of Espresso take? or discover more ways on How to make espresso at home without a machine.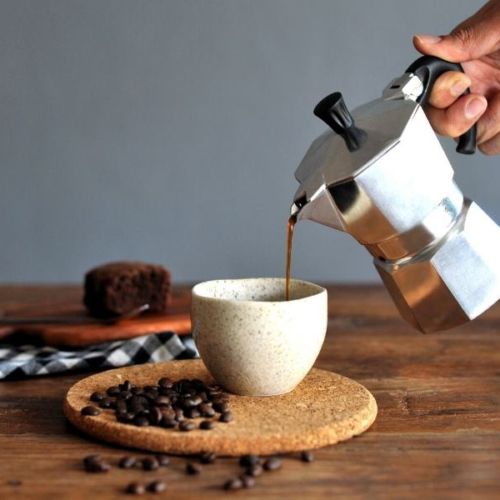 Making Espresso coffee in an Espresso maker (Moka pot)
Step by step instructions for making a fresh and fragrant espresso at home in an Espresso pot or Moka Pot.
Equipment
Moka Pot*

Coffee grinder*

Espresso coffee*
Ingredients
1

Moka pot

7

g

Espresso coffee

beans

Grinder

if you ground freshly

Espresso cup

Hot water
Instructions
Disassemble your Moka Pot. The pot has three chambers; the bottom part where you put your water, the basket where you fill your coffee and the top part where the espresso goes when it is ready.

First add water to the bottom chamber staying below the steam outlet. Ideally, use warm or hot water to prevent the espresso from tasting slightly metallic. If you cannot heat the water or do not have the time, just use cold water.

Prepare your preferred coffee. If you use espresso beans, firstly grind the beans.

Fill the coffee basket with the coffee. Make sure to not put too much coffee in the basket to allow the free flow of water. Do not press the coffee firmly in the sieve, it should remain loose.

Place the Moka Press on the stove top on medium to high heat. If you use a gas oven make sure the flame is not too high.

Wait for about 3 to 5 minutes. You will hear a wooshing sound when the top chamber is filled with the espresso. Once the coffee stops flowing up, you will hear the wooshing stop.

Now warm up the espresso cup with hot water and pour in your fresh espresso.

Enjoy!
Share on Facebook
Share on Twitter
Share by Email
Image credits: Unless otherwise stated: ©Angela Darroch, ©Pro Stock Media via Canva.com or ©Unsplash.com. As an Amazon affiliate, I earn from qualifying purchases. The links marked with an asterisk (*) are so-called commission links. If you click on one of these links and make a purchase, I receive a commission from your purchase. This income helps us to run this website and to provide our recipes free of charge. The price does not change for you.