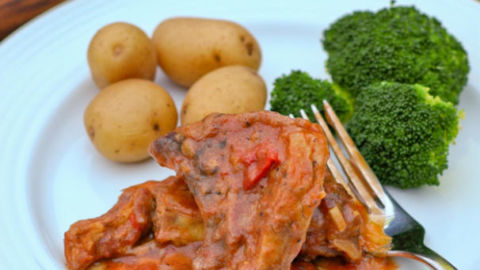 When the weather is getting colder, it is time for a how little treat dish. Slowly cooked lamb stew is the perfect dish to warm body and soul.
What do you do on a day like this? Well, in my house the boys decided to go for an 8km run around a cold, stark lake. Madness in my mind. I, on the other hand head for the kitchen. I decided to make this simple, homely lamb casserole from one of my favourite South African recipe books by Lynn Bedford Hall.
The boys came back from their run to the smell of this lamb stew cooking away in the oven and I had to threaten them with everything under the sun just to keep them from sneaking a piece of lamb before dinner time.
My favourite way to eat this stew is with a dollop of mashed potato to soak up all the lovely gravy but we are trying to watch the calories so plain boiled potatoes it had to be.
Savoury Lamb Stew
Ingredients
4 large lamb leg chops (approx 700g)


2 ml paprika


2 ml dried thyme


2 ml dried oregano


2 ml curry powder


35 ml flour


2 ml salt


olive oil


1 large onion, chopped


2 cloves garlic, chopped finely


375 ml lamb (or beef) stock


1 tin (390g) chopped tomatoes


5 ml brown sugar


10 ml Worcester sauce


Instructions
Preheat oven to 160° C.



Cut chops in half to make 8 neat pieces and remove any excess fat.



Mix together the paprika, herbs, curry powder, flour and salt and coat meat on both sides.



Add olive oil to your pan and brown the chops lightly on both sides until nicely coloured.



Transfer to a baking dish to fit closely



Add a little more oil to your pan, and fry your onions and garlic.



Add any of the remaining flour mixture to the onions and garlic, then add the stock.



Stir well, making sure all the residue from the pan is stirred into the stock.



Add the tomatoes, sugar and Worcester sauce, mixing well.



Remove from the heat and pour over the chops.



Bake, covered for 1 hour 30 minutes.