Things To Consider when Getting A Smoothie Blender
When getting a smoothie blender, you have to look out for the best because it is like a routine for some set of people, they can't go a day without having smoothie with this if you want to run a smoothie blender every day it has to be of good quality.
Here are some of the things to consider before getting one:
Things To Avoid When Using your Smoothie Blender
The Power (Capacity)
Picking a good blender for making green smoothie or smoothie, the first thing you should look out for is the power to know how many watts it has. It helps you to know, how well it is going to work, for it not to burn. This is really essential because smoothie blenders are always high in watt compared to a normal blender, because of the demanding functions it will perform.
For a smoothie blender, the watt should at least be
1000 watts upward.
Meanwhile, the higher the watt of a blender, the better the work it will do. If the watt is too low, some blenders actually do not work properly. Blending greens, as in this matcha protein shake, takes a lot of power.
Also, the way you make use of your blender is the way it will last long by not over-stuffing with fruits or veggies to blend at a go.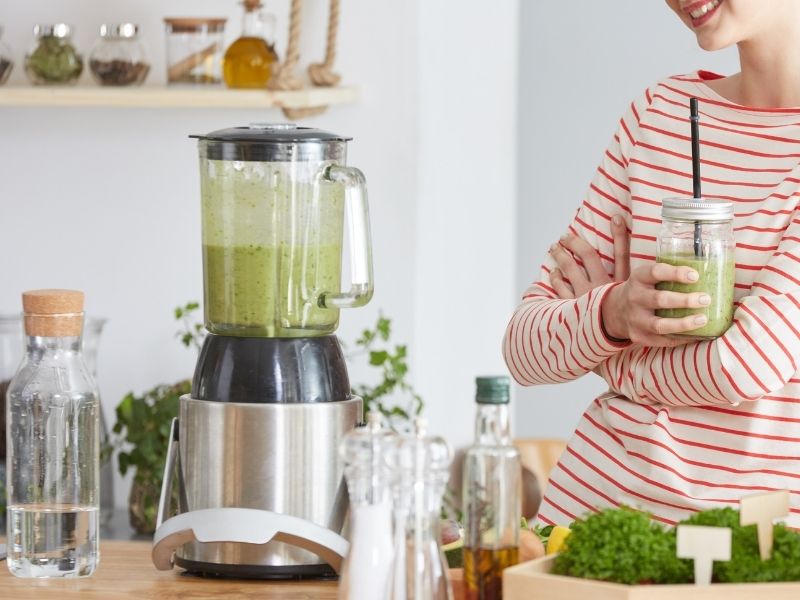 The Size
Considering the size to pick for a smoothie blender is important also.
If it is just a one-person-serve, it is advisable to get a product that can serve in that aspect. 500 – 600 ml.
If it is the other way round for family, getting a family blender is the best that can serve as many people as possible. > 2L
Another important thing is getting a smoothie blender for commercial purpose. There are blenders that work in this aspect for chefs.
Also, some people consider the size because of where to place their blender, like a countertop blender.
The Blade
It is really good to look out for this also because this is actually one of the most important things in a blender. A blade can function in different aspect either for chopping, crushing, shredding, etc
The blunter the knife, the better!
When getting a smoothie blender it is advisable to get a blender that you can easily detach the blade from it when you want to clean.
In addition, some blenders come in different materials like plastic, glass, steel, well all good depending on personal use. It has to BPA free.
The longer the knife circumference, the finer the smoothies
The Lid
The lid of a blender is important because most lids are not always tight, you have to place your hands on it so as not fly off and mess the whole place. When running the blender, most people leave it to do something also that is if the lid is tight but if it is the other way round you have to hold on to it.
In other words, the lid of a smoothie blender has to be tight and firm so as not to mess the whole place up.
More about smoothies and blenders
Tips for a 10-day green smoothie cleanse
The difference between a smoothie maker and a normal blender
Our review for the best smoothie blenders