In the world of homemade cocktails, this Brandy Sidecar recipe is one which makes a great foundation for building upon and adding your own unique twist by including variations of favourite ingredients. It's a simple cocktail that traditionally includes a spirit, a sour and a sweet that results in a tart, spirit-forward drink!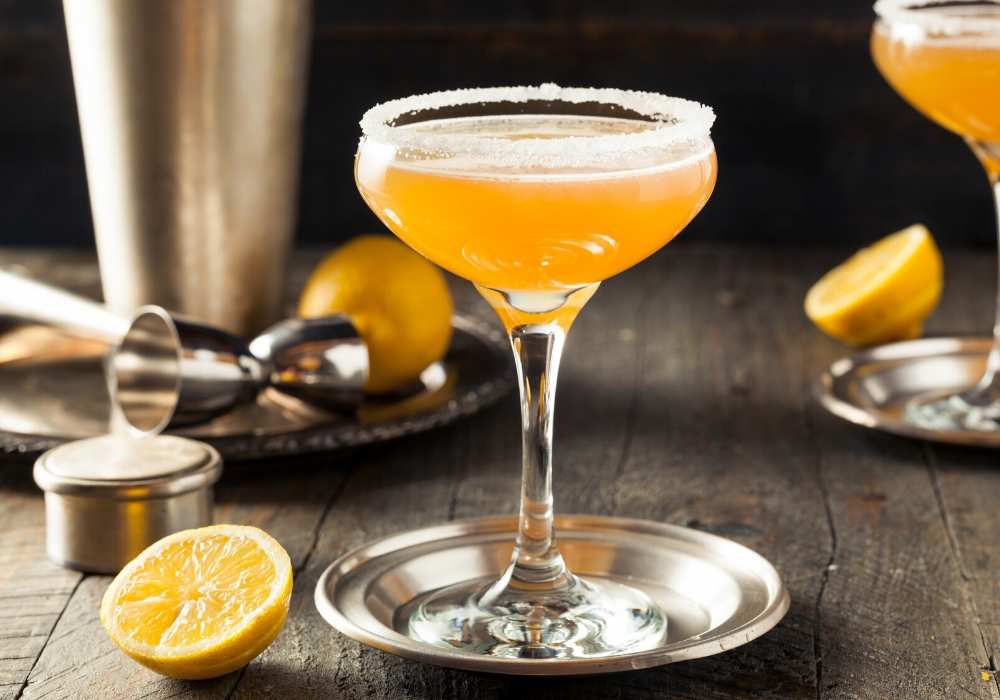 This orange brandy cocktail is no exception. In this recipe, I've adapted the classic sidecar cocktail to include the citrus flavour by adding orange juice and orange liquor. Together, these ingredients bring colour, warmth and a touch of sweetness to this traditional sour cocktail.
The History of The Classic Sidecar Cocktail
The sidecar is a cocktail that any respectable bartender will know as this classic has been around since the last days of World War I. In the case of this drink, on the one hand, an unknown soldier in Paris, according to the bartender David A. Embury.
It became so popular among the hotel frequenters that it naturally followed them to their home countries, creating popularity around the globe. From there, locals in other parts of the world have created variations of this sidecar cocktail.
On the other hand, Harry MacElhone from the world-famous Harry's New York Bar mentions bartender Pat MacGarry as the inventor of the drink in his book Harry's ABC of Mixing Cocktails, but for unknown reasons in later editions he sweeps him under the table to crown himself as the inventor.
It is still unclear – and will probably remain so forever – which of the two is right here now, even if most of them tend more towards MacElhone. Other things are clear: Originally, the sidecar was created from Brandy Daisy, a very similar cocktail without Cointreau, but with sugar syrup and Chartreuse.
Where the name comes from
It is also clear that the Sidecar is named after the sidecar of a motorcycle and is mixed in the first recipes in a ratio of 1:1:1 – "French School" is the name of this variation. The "English School", added later, doubles the proportion of cognac.
The typical decoration
The sugar rim was added for both variants sometime in the 1930s after prohibition, but is still a frequent point of contention today – after all, the decoration for a classic cocktail is already very playful.
A light Brandy Sidecar version
Although this version shared with you today is not especially the classic sidecar recipe, it offers a much lighter version which has made it one of my favourite among all the brandy cocktails out there and a must-try if you are looking to make something simple and refreshing!
Also try the classic Aperol Spritz or some fruity Pina Colada Jello Shots.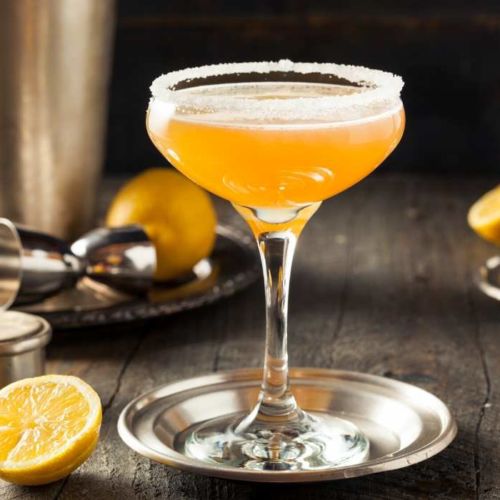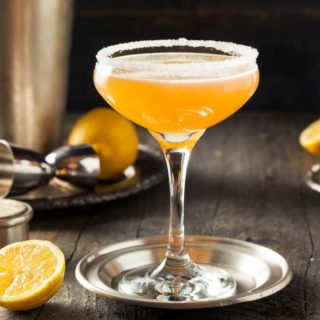 My Brandy Sidecar Cocktail Recipe
This fruity brandy sidecar variation is the lighter version of the more heavy original. This makes it a perfect drink in warm weather or when you wanna stay lighter-headed.
Ingredients
2

tblsp

sugar

25

ml

Brandy

50

ml

Cointreau

1

lemon

½

orange

Ice cubes


zest of 1 orange


Instructions
Mix the sugar and orange zest together in a shallow saucer. Juice lemon and ½ orange.

Wet the rim of your cocktail glass with some lemon juice. Dip the edge of the cocktail glass in the sugar and zest mixture. Leave to dry.

Add the Brandy, Cointreau, lemon juice, orange juice and 4 – 5 ice cubes to a cocktail shaker.



Shake well for at least a minute.



Strain into your cocktail glass.


Share on Facebook
Share on Twitter
Share by Email
Enjoy!