Blueberry & Lime Ice Cream
Why buy ice cream when you can make easy ice cream recipes from scratch at home? This creamy, sweet and tart Blueberry and Lime Ice Cream just requires 4 ingredients and is the perfect treat to enjoy on a warm day. Or on a cold. Simply at every time.
How to make blueberry ice cream without ice cream maker
The addition of lime in this blueberry ice cream offers a deliciously refreshing taste. It is super quick to make with an ice cream maker, like indicated in our recipe.
If you don't have an ice cream maker at home, don't worry because this recipe can also be made by hand, it'll just take you a little longer.
Place the mixture into the freezer for an hour, remove and whisk until smooth.
Return it to the freezer again for another hour, remove and whisk again.
Transfer the mixture to a sturdy container and return to the freezer.
Prior to serving, move the ice cream to the fridge for 30 minutes to soften.
Blueberry season
Season for blueberries is from mid of June until September. You will get them all year round, but the real flavour you only get in high season.
Make use of any great deals on blueberries at your local grocer by buying in bulk and freezing your blueberries. That way, you get to make this delicious blueberry and lime ice cream whenever you wish. Here's how to freeze blueberries the correct way:
How To Freeze Blueberries
Use fresh blueberries that are completely dry before placing them in the freezer. If you decide to first rinse them then dry them well with paper towels.
Transfer your dry blueberries to airtight resealable plastic bags or simply place them, still in their original containers, in resealable plastic bags and place in the freezer.
You don't have to wash your blueberries before freezing them but just make sure to rinse them once you've removed them from the freezer before use.
For best results, use your blueberries in this blueberry ice cream recipe within 10 months of freezing.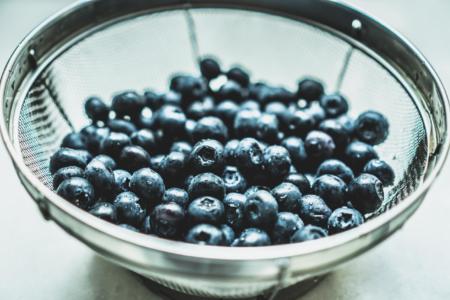 For hot summer days, also try our recipes for homemade vanilla ice cream, Watermelon Slushy, Blueberry & Lime ice cream or our famous Raspberry Sorbet. If you like blueberries, try also our French style Blueberry and Thyme tarts.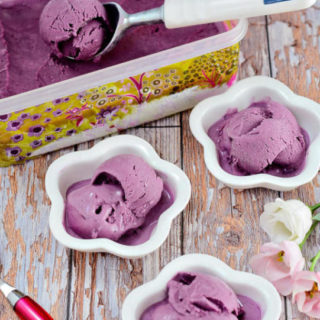 Homemade Blueberry & Lime Ice Cream
This deliciously and healthy creamy blueberry lime ice cream is a real treat for you and your guests. You can use an ice cream maker or make it by hand. Try our recipe now.
Equipment
Ice cream container

Sieve

Zester
Ingredients
4

limes

350

g

blueberries

1

tin

condensed milk

14 oz

300

ml

single cream
Instructions
Finely grate the zest from 1 of the limes and squeeze the juice from all 4. Add the zest and lime juice to a pan.

Add the washed blueberries and heat gently for a couple of minutes. Afterwards leave mixture to cool.

Stir in the condensed milk and cream and mix until thoroughly combined. Then put the mixture through a sieve to remove the skin.

Churn in your ice cream maker until thick. Transfer the mixture to a container and freeze until required.

Before serving, transfer to the fridge for 20 minutes to soften.
Share on Facebook
Share on Twitter
Share by Email