Aperol Spritz Recipe – Iconic Italian Cocktail
Aperol Spritz is the summer drink par excellence. The orange colored cocktail represents Italian sun, joie de vivre, and vacation time. It is served either as an aperitif or as a long drink. How you can mix the iconic drink and various variations at home, you can read here.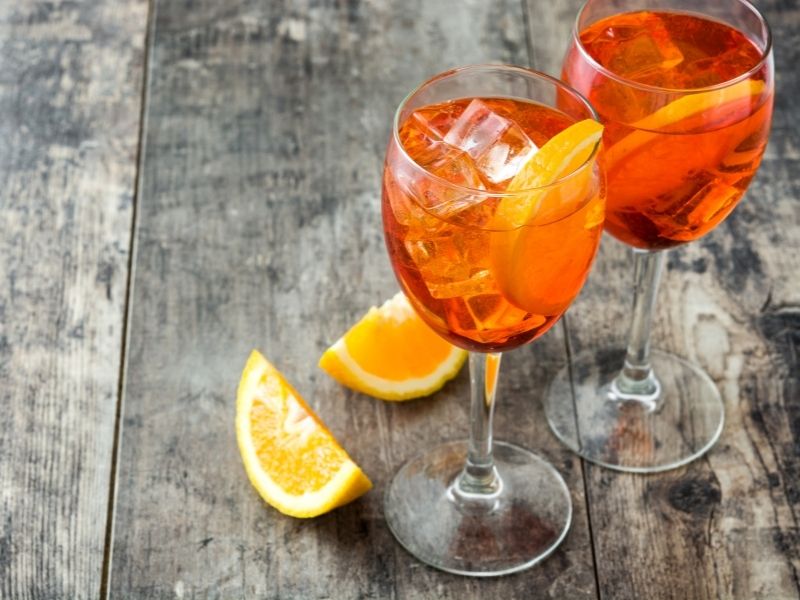 Aperol Spritz symbolizes Italian lifestyle like no other drink. The sparkling cocktail was invented here and enjoys great popularity, even among the otherwise picky Italians. Probably because of its proximity to Austria in the north, the term "Spritz," derived from "Gespritzter," was adopted from German.
How to make Aperol Spritz
In the original Italian Aperol Spritz recipe, it consists simply of the following ingredients:
3 parts white sparkling wine (Prosecco frizzante) from the Veneto region.
2 parts Aperol
1 part soda water/carbonated mineral water
or
2 parts (70%) Prosecco
1 part (30%) Aperol and
a dash of mineral water.
The latter option can be sweeter than the first. Sometimes the prosecco is replaced by white wine.
However, the rule is:
You don't have to stick meticulously to the ratios. Use your intuition and add the drinks as you feel. In time, you'll know your favorite mix.
Types of Aperol Spritz
Try also the following combinations:
Replace the Aperol with Campari and use only Prosecco.
Mix it with Cynar or Limoncello
Add a shot of red wine, gin or vermouth (martini) for a more complex flavor
Sparkling wine or prosecco?
For a sparkling Aperol Spritz cocktail, you can use prosecco or sparkling wine. However, there are small differences. While in sparkling wine the carbonic acid is created during fermentation, in Prosecco it is added afterwards.
Therefore, Prosecco is usually fruitier than sparkling wine, but tingles less.
So if you like a very fizzy long drink, Aperol Spritz with sparkling wine is the way to go; if you want it sweeter, go with Prosecco.
Is Aperol Spritz vegan?
Yes, Aperol Spritz is vegan.
Is Aperol Spritz gluten free?
Yes, Aperol Spritz is gluten free.
What is Aperol?
Aperol, the bright red liqueur, is a distillate of rhubarb, cinchona bark, yellow gentian, bitter orange and various herbs. The strong coloration and bitter note come from food coloring and flavoring. You can buy Aperol in supermarkets, beverage stores or online.
Serve the aperitif in half-long stemmed, bulbous glasses like these:
Also try our My Brandy Sidecar.
No products found.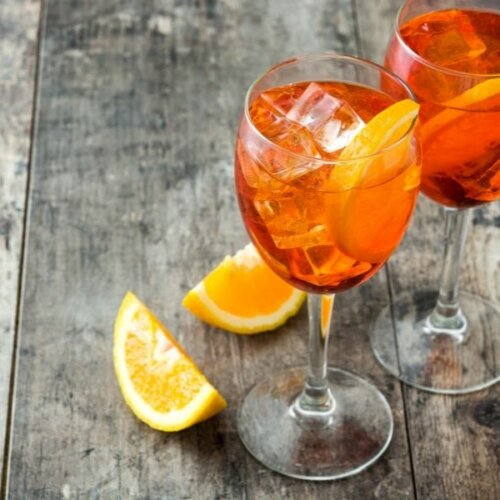 Aperol Spritz – Iconic Summer Cocktail
The refreshing, orange summer cocktail is a classic from Italy. Aperol spritz is sparkling, sweet, and fruity. Try this long drink at home.
Ingredients
160

ml

Prosecco

dry

80

ml

Aperol

1

dash

mineral water

sparkling

1

orange

organic

Ice cubes
Instructions
Wash the orange and cut 2 slices per glass.

Put 3 to 4 ice cubes in the glass and mix Prosecco, Aperol and a shot of mineral water in it. You can also change the ratio to taste and add more mineral water.

Add one orange slice cut in half and cut the other one in half and put it on the rim of the glass as decoration.

Put a straw in it.
Nutrition
Share on Facebook
Share on Twitter
Share by Email
Last update on 2023-09-27 / Affiliate links / Images from Amazon Product Advertising API