Do you love the idea of green detox cleanses, but can't stand the thought of only drinking juice for days on end? Well, you'll be happy to know that a 10-day green smoothie cleanse will provide you with all the benefits of a juice cleanse, but in a much more satisfying way.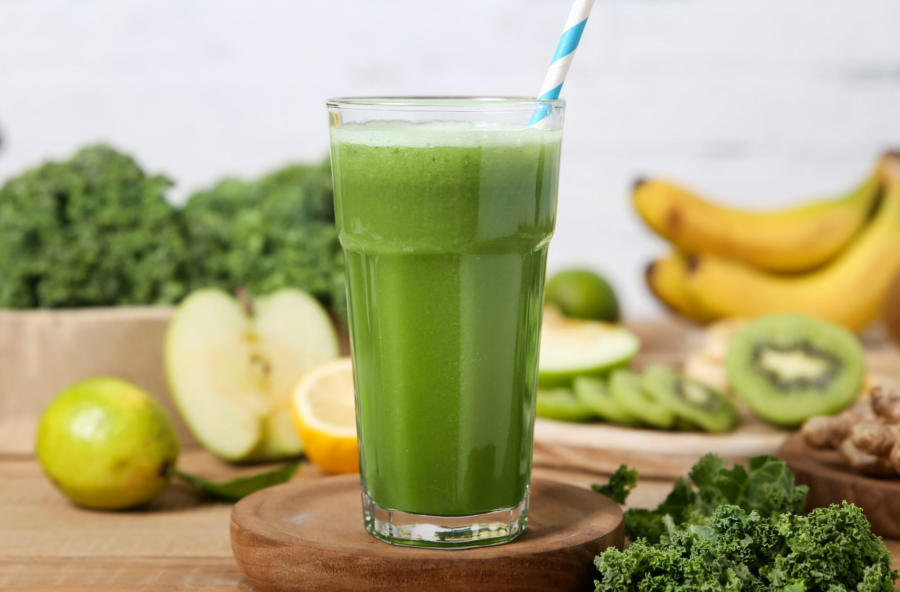 Healthy green smoothies give your body a chance to restore itself, supplying you with tons of nutrients. Although detoxifying green smoothies aren't meant to be consumed alone long-term, it is one of the best ways to jump-start weight-loss, especially if your body is fighting against dropping those pesky pounds!
Here are some amazing health benefits to adding green smoothies to your diet:
Health Benefits of Green Smoothies
Weight-Loss
Increasing fruit and vegetables into your daily diet aids the process of weight-loss. It's not only nutrient-dense food which will result in fat loss but these green smoothie ingredients also reduce water retention which has built up in the body from toxins.
Muscle Gain
Believe it or not but many leafy greens contain high amounts of protein which is vital for muscle growth. It also helps that they contain a whole range of other nutrients required to build a strong, healthy body.
Increased Energy
Many people who have incorporated healthy green smoothies into their daily diets notice a massive increase in their energy levels. Leafy green vegetables like spinach and kale are excellent sources of iron and vitamin C which enhance the absorption of iron in the body. Iron enhances the production of red blood cells for the efficient delivery of oxygen to your cells, which is known well to fight fatigue!
Mental Clarity
Refined sugars and carbs have a negative impact on the blood glucose level in our bodies which often causes brain fog. Drinking green smoothies will provide your brain with the right fuel it needs to work optimally, resulting in clarity of thought and creativity.
Improved Skin
As your body starts to detoxify itself during a 10-day green smoothie cleanse, it's only natural for it to also improve your skin. Many with acne problems have experienced an improvement in their skin while adding detoxifying green smoothies to their meal plans.
Lessens Wrinkles
Increased fluids and nutrients in your diet will hydrate your skin and reduce wrinkles. It's no wonder then that plant-based diets have been scientifically shown to slow down cellular ageing.
Find our reviews of the best smoothie blenders here
Tips for buying the right blender
10-day Green Smoothie Cleanse Tips
Action these tips to maximise the benefits of this 10-day green smoothie cleanse:
Drink enough water throughout the day to flush your body of the toxins that are getting released. This will help prevent you from getting headaches that usually accompany any detox plan. Drinking water also helps to curb any hunger pains you may experience during this initial shift in diet.
You can add tea and coffee to your 10-day cleanse but it is preferable to drink these black without any refined sugars so that you aren't adding ingredients that were not intended to be added over the course of these 10 days. All other drinks such as fruit juices (which often contain high levels of processed sugars), alcohol and carbonated drinks must be avoided. 
If you feel the need to eat in addition to your green smoothies, try to stick to raw fruit and vegetable snacks such as apple slices or baby carrots. Avoid eating any meat or wheat such as bread. 
This cleanse can be challenging so it's best to do it when you are in a good space mentally and emotionally and not under any high levels of stress. 
Take a before and after picture of yourself (full-length front and back) so that you can assess your overall weight-loss. This is always a great way to motivate yourself as you continue on your weight-loss journey after the cleanse. 
Rotate the green ingredients used in the smoothies. This will aid balance in your cleanse and will also help you not to get bored of the same ingredients which may tempt you to cheat on your cleanse or give up entirely. 
Hopefully, you are now convinced that trying a 10-day green smoothie cleanse is one of the best and healthiest ways to kick start your weight-loss and improved health. Have a read below for my recommended green smoothie recipes that you can try today!
Image credits: Unless otherwise stated: ©Angela Darroch, ©Pro Stock Media via Canva.com or ©Unsplash.com. As an Amazon affiliate, I earn from qualifying purchases. The links marked with an asterisk (*) are so-called commission links. If you click on one of these links and make a purchase, I receive a commission from your purchase. This income helps us to run this website and to provide our recipes free of charge. The price does not change for you.